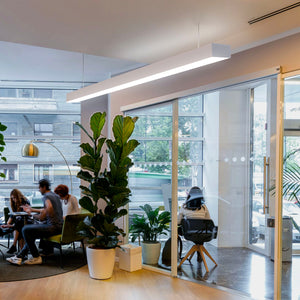 Finelite | linear LED luminaire - High Performance 4 in Aperture White
$37800

$378.00

Save $1,160
---
This product requires freight shipping or local pick-up / delivery. Please contact us to order, get more information or make an offer.
High-quality, high-performance, environmentally-friendly, 4 inch Aperture LED area lights from Finelite's HP4 collection, ideal for contemporary office or commercial spaces.
These lights are leftover extras from a commercial project in the SF Bay Area - originally purchased in bulk via trade discount at $1538 ea.
*The picture shown in this listing is photoshopped to closely approximate what the light would look like installed, but is not an actual product photo. Please visit manufacturer website (Finelight) for additional details and 'real' photos of the products.
Line Features
90% of initial light output at 100,000+ hours
Model Specifics
Model: HP4-ID-12-S-S-835-TG-F-277-FA50-FE-SC-C4
Platform: (HP) High Performance
Series: (4) 4 inch aperture
Light Distribution: (ID) Indirect/Direct
Length: (12) 12 Feet
Uplight Output: (S) Standard (428 lm/ft)
Downlight Output: (S) Standard (379 lm/ft)
Output & LED Type: (835) 835 - 80 CRI, 3500K
Uplight Optics: (TG) Top Glow
Downlight Optics: (F) Flush
Voltage: (277) 277 Voltage
Mounting: (FA50) Fully Adjustable 50" (standard)
Endcap: (FE) Flat Endcap
Circuit: (SC) Single Circuit* - One single circuit in a run
Mounting Options: (HC) Hard Ceiling
Color: (SW) Signal White
This product may be returned within 30 days of purchase, subject to certain restrictions.
View our
return page
for more information
---
---
We Also Recommend