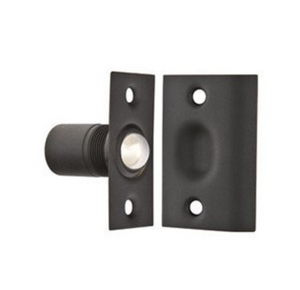 Emtek Assa Abloy | Ball Roller Catch Sets - Flat Black
Emtek Assa Abloy | Ball Roller Catch Sets - Flat Black
Ball catches are generally used on doors, but can be used in other applications. The way they work is simple: on the top of the door there is a hole drilled and a spring loaded ball is installed which slightly protrudes from the top of the door. On the jamb above a strike plate is installed much like a strike plate used on a regular door, but this strike has a small indentation to fit the contour of the ball rather than a hole for the latch. As the door shuts, the spring loaded ball rests in the indentation on the strike and keeps the door closed.
Length: 2 1/8"
Width: 1"
Ideal for use closet or cabinet doors
Also can be used on a double door set
Includes Matching Screws and Strike Plate
Solid Brass Construction
Model: 880219 FB
This product may be returned within 30 days of purchase, subject to certain restrictions.
View our
return page
for more information
---
---
We Also Recommend