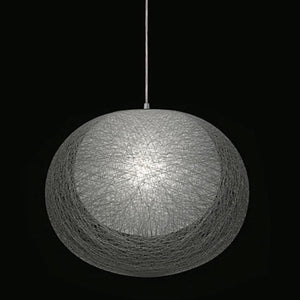 Yamagiwa | Mayuhana 2 Oval Pendant Lamp, White
Yamagiwa | Mayuhana 2 Oval Pendant Lamp, White
Dimensions: 18.5"Wx14"H
Yamagiwa, based in Japan and started in 1923, has been a leading producer of avant-garde lighting for decades. As is with many crafts from the area, quality of craftsmanship and conceptual artistry have propelled the company to the world stage, collaborating with internationally acclaimed designers and architects to create an exceptional catalog of renowned lighting designs.
This collection of lamps takes inspiration from the smooth, silky qualities of a cocoon. While minimalist and contemporary, the Mayuhana Mie Pendant sports a distinct texture and when paired with a warm white bulb, creates a basking light which shadows play with the fine strands of the spun fiberglass shade. Within the shade is a finely woven diffuser with multiple layers, creating unique lighting.
Technical Information
Pendant lamp comprised of three nested spun fiberglass shades and steel frame. To be hard wired with canopy into the ceiling.
Production Process: The shade is made from by spinning the frame while a fiberglass stream is laid continuously.
Bulb not included.
Made In Japan
Designer: Toyo Ito
Model: YL-P2912W
Bulb Text: E26 100 watt max; G40 recommended.
Indoor use only.
*This light is in very good condition. It was a showroom sample. It is not in the original packaging. Canopy not included.*
This product may be returned within 30 days of purchase, subject to certain restrictions.
View our
return page
for more information
---
---
We Also Recommend