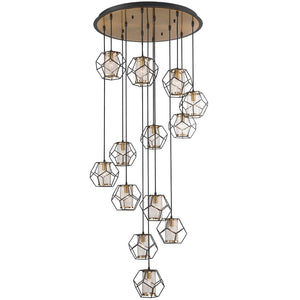 EuroFase | Bettino 13 Light 33" Black Finish Ceiling Chandelier. Metal Shade
$98657

$986.57

Save $422.82
---
This product requires freight shipping or local pick-up / delivery. Please contact us to order, get more information or make an offer.
Eurofase | Bettino, 13 light chandelier, in a black finish. MODEL#: 33703-015 Metal material with a metal cage for the shade. Incandescent light source with (13) 60W. Input voltage is 120V, bulb voltage is 120V. Hanging support is wire based. Overall dimensions are 189.25"h x 7.5"h x 32.5" dia, weighing 37.5 lbs. Canopy dimensions are 30" dia x 1.75"h.
This product may be returned within 30 days of purchase, subject to certain restrictions.
View our
return page
for more information
---